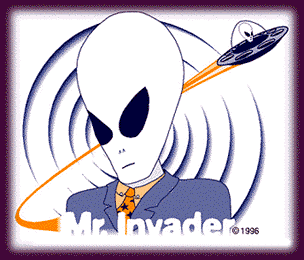 OTHER WORLDS: Links to other websites
---
Mr. Invader recommends these links but does not really agree with the opinions expressed at all sites. They're either resourceful, or he just plain likes 'em.
---
Kansas State Collegian - The first 150 Mr. Invader strips ran in this publication in 1996.
---
50th Anniversary: The Roswell Incident
- Designed in Mr. Invader style for the San Antonio Express-News
Parallel Universe
- Based near Area 51 - The greatest selection of UFO apparel.
Whitley Strieber's Communion
- Listed in the back of his newest alien book,
The Secret School
Contact
- Official home page.
Area 51 Research Center
- Very organized UFO resources
UFOINFO
- Info on books, URL's, etc.
National UFO Reporting Center
- Report sightings. Monthly updates.
Skywatch International
- Resourceful.
---
Servotron
- Attention human: You will be annihilated at the earliest convenience. Also
Servotron
---
Justin Stahlman
- About the artist
---
Merchandise | Encounter '97 | Other Worlds | Cartoons | Home
---